About The Band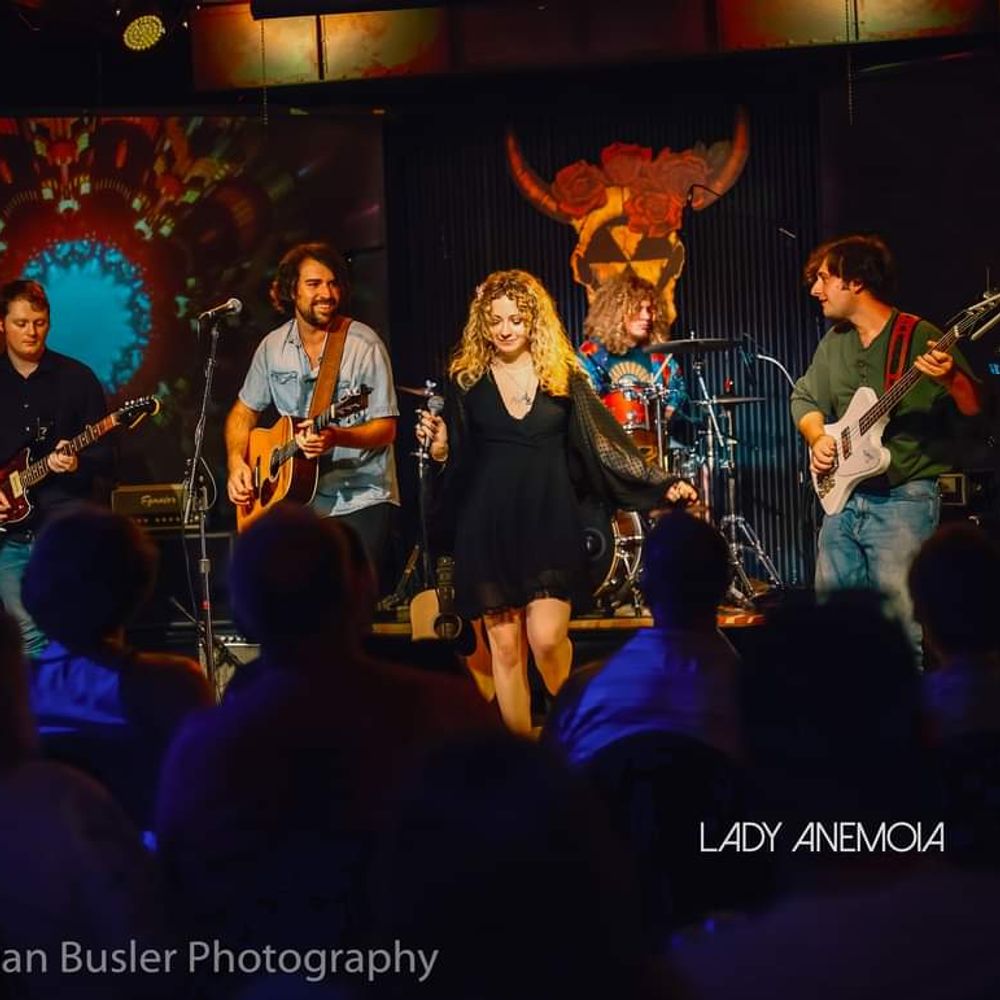 Lady Anemoia
Get to know the band
Lady Anemoia is a five-piece band from Southern Worcester County in Massachusetts. Their music stems from the nostalgia of an era they've never known, only heard of stories through musicians of the past.
Lady Anemoia came together in August of 2020 in the midst of a global pandemic, and only really began to blossom in January of 2021. With each one of their members having similar yet different music tastes, this has created a both vast and uniform blend within their songs.
"As the world begins to open up again, we hope to come together and also open the minds of those who are willing to listen."
-Lady Anemoia
Avery Markle
Ethereal, mystifying, and timeless are only a fe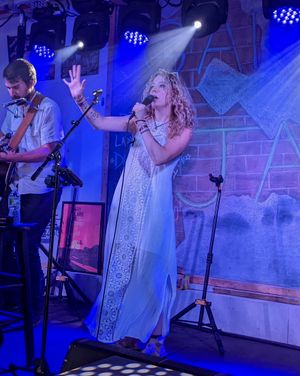 w ways to describe Avery Markle's stage presence. Often compared to Stevie Nicks, Dolores Riordan, Hope Sendoval, and Natalie Merchant, Avery brings a sense of nostalgia to Lady Anemoia alongside her distinct lyrics and unique voice. With her vivid storytelling, and captivating aura, Avery is always able to brighten up any room, and easily draws crowds in. Dreamy and poetic, Avery's original songs are not to be overlooked, as they always wind listeners down paths through whimsical mountain peaks, passionate human connections, peaceful ocean scenes, or whatever else the lyricist wishes to write about. Avery often says that "we are all the universe simply experiencing life," and she shows this very belief through many of her songs. Her primary songwriting muse and biggest inspiration is Joni Mitchell, as she has always been wildly captivated by the famous folk singer. When Avery is not listening to Joni, or studying her lyrics, she also favors Bob Dylan, The Band, Fleetwood Mac, and some more modern artists such as Deer Tick, The 1975, Tyler Childers, and Gregory Alan Isakov.
Joe Malone
Often d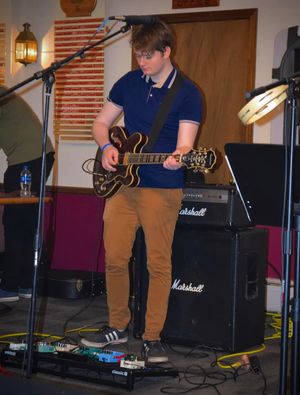 escribed as a quiet virtuoso who speaks through his playing, Joe Malone powers Lady Anemoia with his unique electric guitar sounds. He communicates through his music, reminiscent of classic 70's rock, 80's new wave, and 90's post punk. Living in Attleboro and a recent college graduate, Joe's passion has always been music. He started playing when he was eight years old and is self taught. Although his main instrument is guitar he also finds himself dabbling with bass, drums, and keyboard. Joe finds inspiration through a wide variety of music ranging from The Clash, The Who, Jimi Hendrix, and The Smiths, up to some more contemporary artists like Pedro and the Lion, Alvvays, The Lemonheads, and The Arctic Monkeys. Joe has played with a few other bands but has often voiced that he feels he has found a home with Lady Anemoia. With his different music tastes, Joe is able to bring new material to the table, and always has new ideas to expand the minds of the other members. 
Joe Ackaway
Constantly described as a new age Bob Dylan, Joe Ackaway plays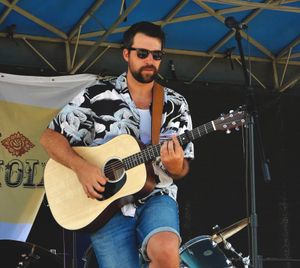 acoustic rhythm guitar for the band, as well as harmonica and backup vocals. With his energetic stage presence, and passionate playing, Joe gives Lady Anemoia their unique, nostalgic feel. Primarily folk inspired, he is able to take listeners to another time, one that many young people have not been around for. He might as well be the epitome of the term "Anemoia." Older generations reminisce at the sound of Joe's talent, and often say that it seems as if the 60's and 70's folk scene may have never faded away. California's Laurel Canyon, and New York's Woodstock hide within the melodies of Joe's guitar and harmonica playing. With a voice that is easy to listen to, it is entertaining to follow his storytelling of long forgotten folk songs, and country ballads. Joe began playing guitar at twelve years old and quickly gravitated towards folk music. It wasn't long before he developed what he considers a "healthy obsession" with Bob Dylan. That primary influence of his shines through his contributions to the sound of the band. 
Colin Cronin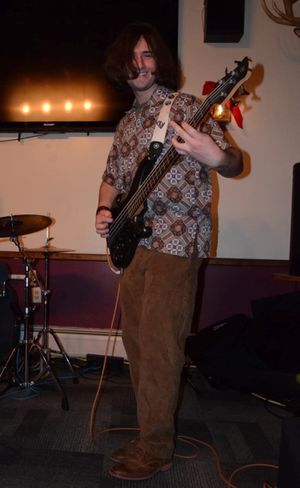 With an onstage presence that is energetic, maniacal, and full of passion, Colin Cronin can only be described as the life of the party. A bassist who's been playing for 15 years, he also plays guitar, piano, drums, and experiments with everything else that makes sound. Providing his own vocals from time to time, Colin brings a form of entertainment to the band that differs from the rest. His energy is unmatched, and can only be felt when experienced first-hand. Colin's influences include This Heat, Don Caballero, Sonic Youth, The Beatles, and Pink Floyd. Passionate with a psychedelic groove from time to time, Colin is involved in a variety of musical acts as well as writing his own music. With such staggering differences in inspiration from the rest of the band, Colin is able to experiment with many kinds of sounds and ideas that bring forth a unique feel in Lady Anemoia's music. Always voicing new suggestions and recommendations, Colin is a world of endless possibilities and continues to bring growth to the band.
Evan Markle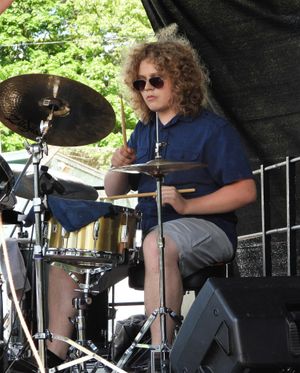 The heart that keeps Lady Anemoia alive, Evan Markle shines behind the band as he provides energetic drum beats and rhythms that have been described as danceable, yet very 60's and 70's inspired. A self-taught drummer, Evan brings a liveliness to the band that is unmatched. You can't miss him, as his golden locks cause him to stand out among the crowd, and this may be why people are always so drawn to him, especially behind the kit. A patient musician, Evan goes with the flow, and always feels out the rest of the room before falling into his playing. He is often compared to Ringo Starr, and Levon Helm with his folky/soft rock drumming, and his biggest influences are The Band, George Harrison/The Beatles, Neil Young, Red Hot Chili Peppers, and Wilco. However, he can't pinpoint one artist or genre, as he's able to get whatever he can from any song he hears. Evan is versed in drums and guitar, and of course experiments with everything else that he can get his hands on. Having taught himself how to play drums in 2020 just for this band, Evan is reliable and intelligent, and a keen necessity to Lady Anemoia.